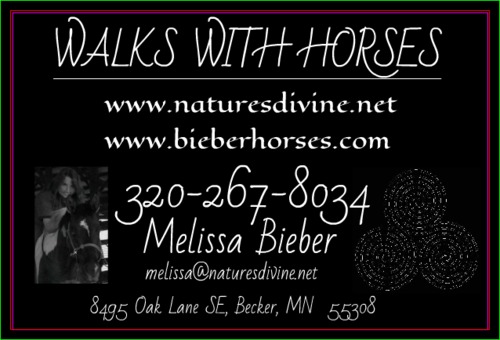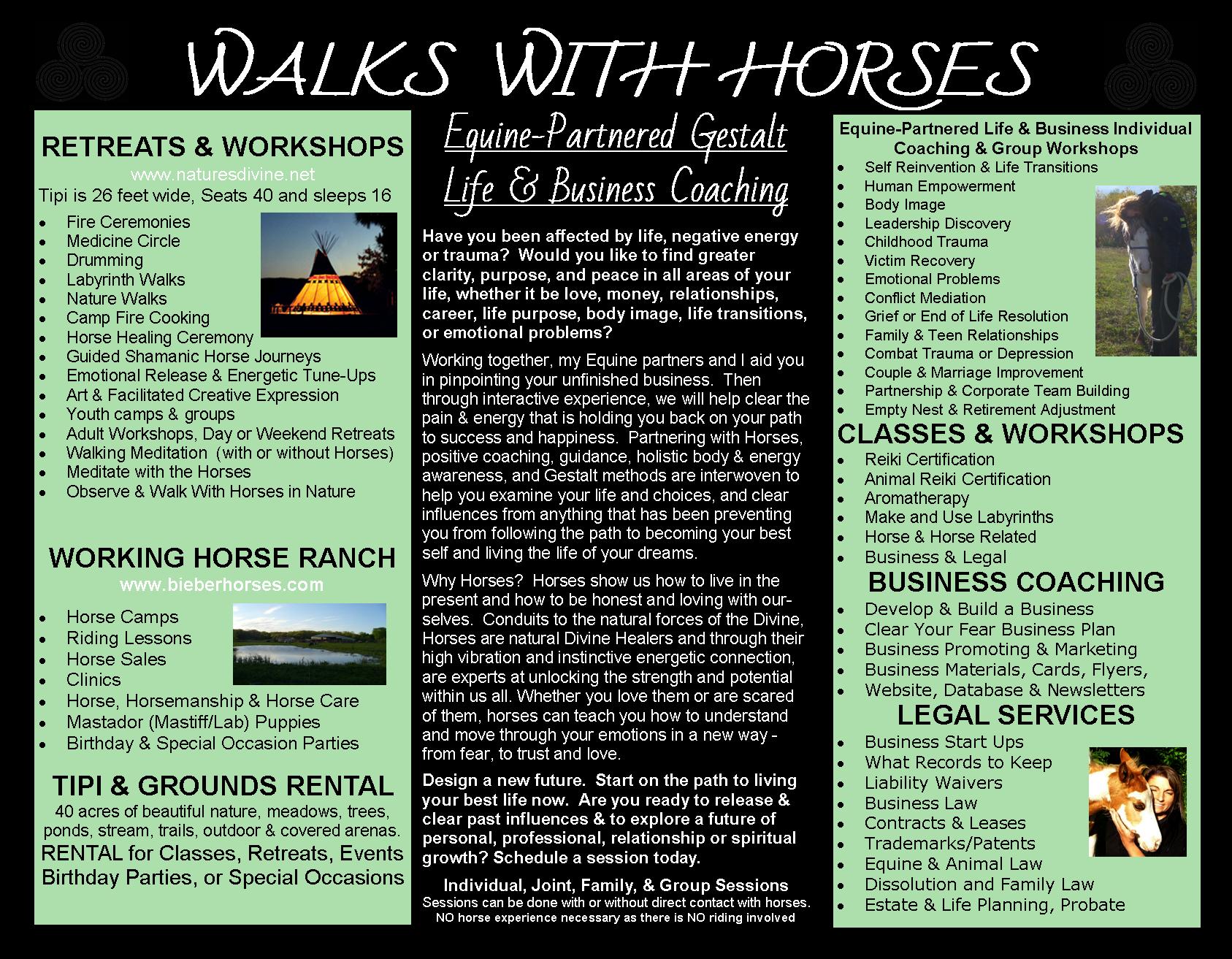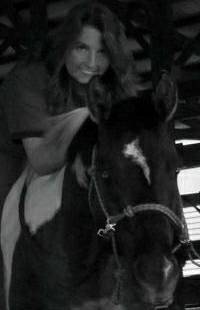 Please Contact me with any questions or

to schedule a session.

Take That First Step

Change starts with one step — the first step is the longest stride.  Don't hold yourself back, let your curiosity and desire for a new life experience of motivate you to tacke action now. The horses and I look forward to meeting you!

Can you imagine living life at a deeper more meaningful level?  The life you dream about?  With the help of the horses I have personally transformed my own feelings of unfilled dreams, unhappiness, insecurity and self-judgment, to living my dreams, peace, joy, confidence and wisdom.   Don't wait for someday....  I invite you to walk into a better life right now.  Me and my trustworthy and compassionate horses will walk with you on your new path of discovery.

Are you ready to release & clear past influences and to explore a future of personal, professional, relationship, emotional, or spiritual growth?  My horses have a message for you — Schedule a session today for expert guidance to gallop into the life that you want.

If you think you'd like to take that first step to fulfilling your dreams, please send your contact information to set up a FREE 20-minute phone consultation.

Thanks so much for reaching out to learn more.  Send me a quick note here, email, or call.

We look forward to hearing from you!

Contact Us Via Email or Phone:

melissa@walkswithhorses.net

320-267-8034

Where To Find Us:

8495 Oak Lane SE

Becker, MN  55308

(By Appointment Only)

Coming To Visit? 

Directions and Other Information

"There is no passion to be found playing small – in settling for a life that is less than the one you are capable of living." – Nelson Mandela

"Act now. There is never any time but now, and there never will be any time but now." – Wallace Wattles

Keep In Touch - Click here to receive our monthly newsletter and updates about special events.


"Melissa's softness and authenticity allow her clients to access and safely look at parts of themselves with a new perspective.  Melissa guides her clients through an experiential process of self-discovery safely and with great compassion." 

- Michelle S., Wyoming

"Melissa has a natural ability to really tune into her client's needs and gently guild them." - Amy M., Alberta Canada

"Melissa coaches with a sense of thoughtful curiosity.  She is good at hearing the real problem and addressing it for a better outcome." 

- Noreen Y., South Dakota